June 24-26, 2022
Sportsman's Camp
a.k.a., Pixley Sportsman Park
Loup Loup Forest Washington DNR Area
Sweat Creek Rd, Okanogan, WA
10 minutes east of Loup Loup summit
48° 23' 29" N, -119° 48' 29" W
or 48.39126°, -119.80812°
Discover Pass required ($35 annual pass, $11.50 one-day pass)
Sabbath Worship Services will be held at our church campout on June 25 instead of at church. We will not have online services, church will not be open and there will be no bulletin for June 25.
Come for the day or the whole weekend to fellowship outdoors in God's beautiful creation!
Campground description:
dry camping -- no potable water
shady, green area
along Sweat Creek
5 sites
5 fire rings
2 outhouses
pavilion for shelter
What to bring with your camping gear:
drinking water (at least ½ gallon/person/day)
water for cooking and cleaning (also about ½ gallon/person/day)
water purifier to use water from creek
extra chairs
musical instruments
mosquito repellent
bicycles
outdoor games
Maps and Directions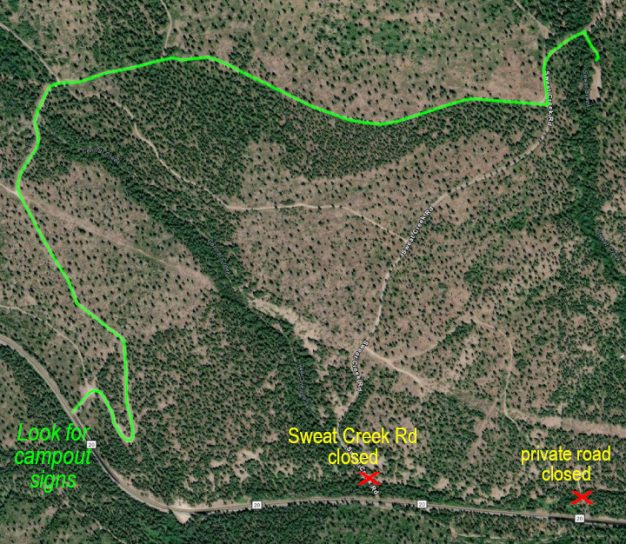 Take US Hwy 20 W toward Twisp
After milepost (MP) 223, at the bottom of the hill at Loup Loup Creek (and before "7 devils" curves), drive 4 mi., and look for Campout Signs on the right after MP 219
Turn right at those signs. If you reach MP 218, you just missed it.
Take the heavily graveled road almost 2 mi. to a "T" at a dirt road.
Turn left at the "T" drive 0.1 mi. to campground entrance on the right. You will cross a bridge over Sweat Creek with tires on the sides right before the entrance.